On February 22nd, Héli-Union was delighted to welcome the Embassy of Mongolia in France representing its customer, the National Emergency Management Agency of Mongolia (NEMA).The Directorate-General of the Treasury of France, Sofema, Thales Training and Simulation and Airbus Helicopters were also present in order to follow the progress of the project to establish a helicopter Search and Rescue center financed by a French loan. This contract was signed in the frame of an agreement between the governments of Mongolia and France with the DCSD (Directorate for Cooperation of Security and Defense) and DGSCGC (Directorate of Civil Security and Crisis Management) involved in the cooperation aspects together with Héli-Union.
As an introduction, Héli-Union's Chairman and CEO, Mr. Patrick Molis welcomed the guests with a special speech thanking all the attendees for their important roles and actions in this project. Mr. Jonathan Cosson, Héli-Union's Deputy Managing Director, orchestrated a visit of HU maintenance facilities to present the company's capacity in terms of MRO (Maintenance Repair & Overhaul).
Héli-Union will deploy a fully integrated service package to the benefit of a Mongolian Agency on the basis of the French Sécurité Civile including 3 EC-145 helicopters, 1 Cabri helicopter for training, one flight simulator and the local infrastructure and all associated staff and support in Ulan Bator. In addition Héli-Union will locally train pilots and technicians to ensure the continuity of operations. The first two Airbus EC-145 to be delivered were presented to the delegation. Featuring last generation equipments (hoist, firefighting means, and medical kit) the helicopters will be delivered at the end of April 2021 in Ulan Bator to start the operations mid-June 2021.
This 3 years project will allow Mongolia, through the NEMA, to build a new aerial rescue capacity with the objective to be totally autonomous after this period.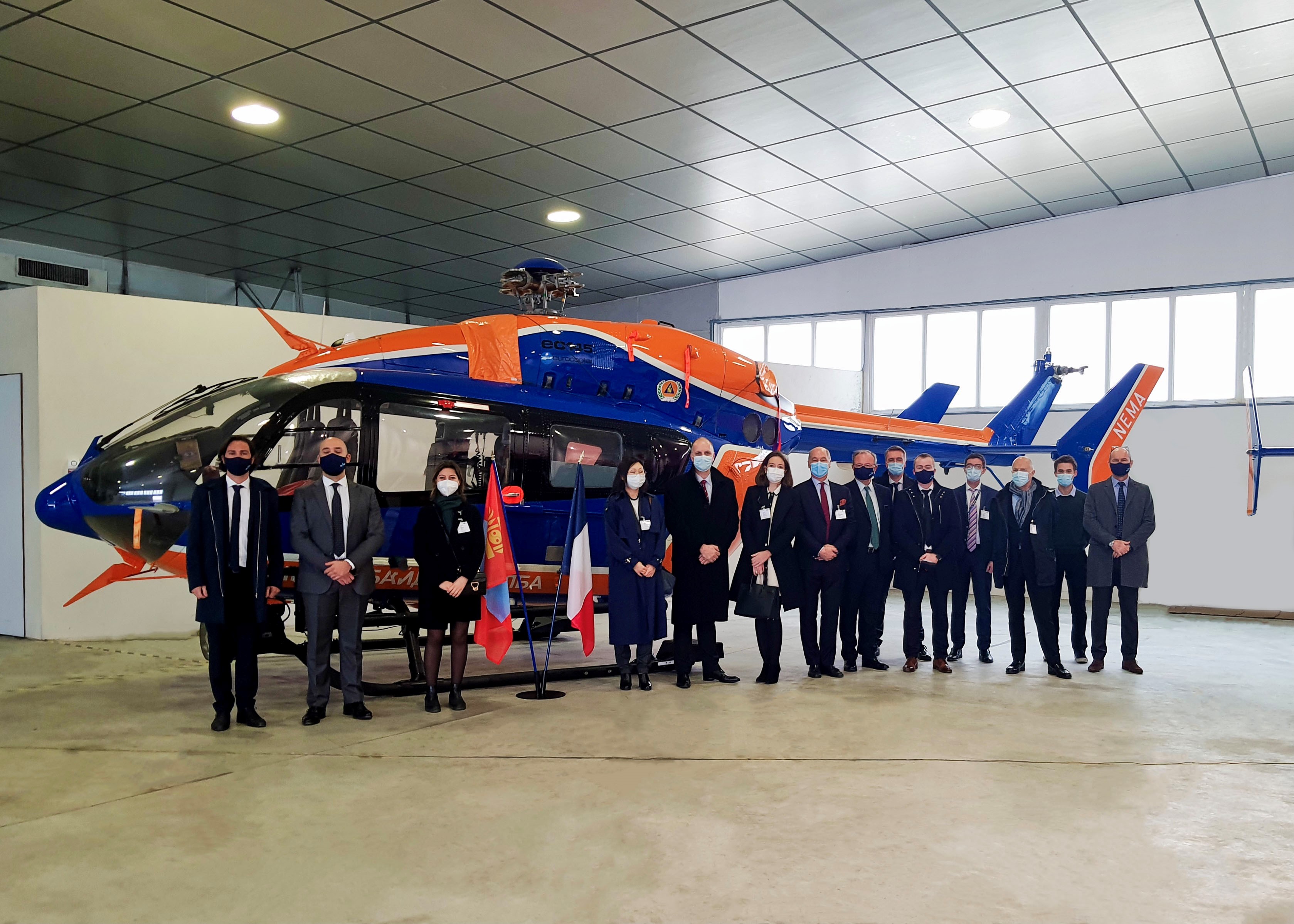 Photo taken by Héli-Union in Toussus-le-Noble.