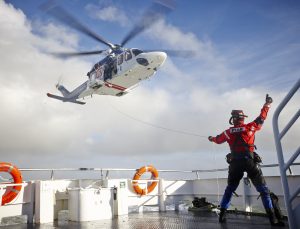 Heli-Union, a worldwide leader in rotary aircraft service industry, launched a commercially based offshore helicopter search-and-rescue (SAR) program in France.
Together with Priority Air 1 rescue, the program that was focusing on emergency response and support devoted for the offshore oil and gas industry commenced in November 2015. Heli-Union selected P1AR for initial to advanced mission training; full program implementation and CAA Human Hoist Operations (HHO) certification support, SAR Ops manuals, and also includes operational aircrew rescue swimmer staffing.
Héli-Union decided to put its newly acquired AW139 on support of this mission. Heli-Union's mission training commenced at Priority 1 Air Rescue Search and Rescue Tactical Training Academy (SART/TAC) located in Nîmes France, where the student participants attended ground school, hoist tower training, and virtual search-and-rescue flight simulation. P1AR instructors then travelled from SART/TAC to La Rochelle, France to complete the onsite inland, ocean, and advanced maritime vessel pilot live flight training.
This newly formed helicopter SAR program are also applied in one of Héli-Union bases, Yangon, Myanmar.
Source : http://www.verticalmag.com/press-releases/heli-union-and-priority-1-air-rescue-partner-to-provide-emergency-sar-services/