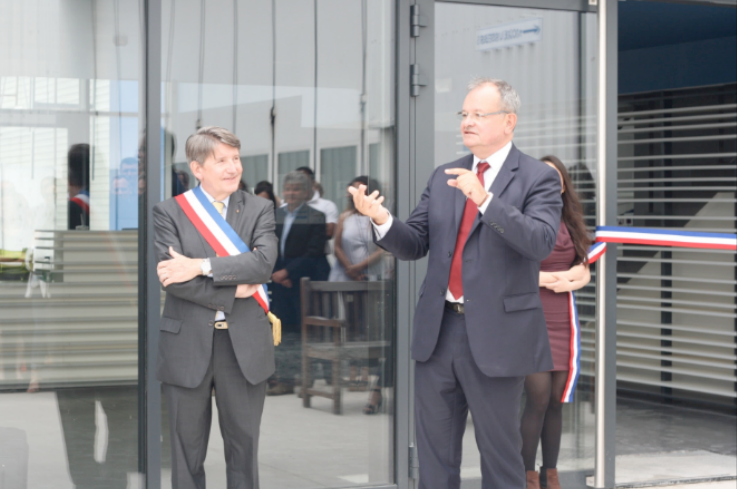 The new headquarter of Héli-Union was inaugurated in Toussus-le-Noble on Friday, June 24. The inauguration was commemorated at the same day as Saint-Jean's day, the annual tradition of Héli-Union that was initially intended to celebrate Mr. Jean-Claude Roussel, the founder of Héli-Union. Today, Saint-Jean's day is celebrated to welcome summer and to reunite close to 200 workers, clients, as well as other important partners together.
Héli-Union maintenance and service activities have been active in Toussus-le-Noble since 1986. Its presence in Toussus-le-Noble was reinforced as Héli-Union Industry was officially established in 1994.
The new premises provide the team with a modern and ergonomic working environment, featuring spaces for interaction, with some areas designated for collaborative working. As mentioned by Mr. Patrick Molis, the CEO and Chairman of Héli-Union, bringing together all the Paris-based team and Héli-Union Industry team, a total of nearly 200 people who were previously separated, will enable the company to develop further synergies among the different divisions.
The inauguration was made official as the Mr. Patrick Molis and Mr. Patrick Charles, the Mayor of Toussus-le-Noble cut the ribbon of the new office building.
Héli-Union was founded in 1961 by Jean-Claude Roussel, whose passion towards helicopters had led him to create a company that serves the helicopter transport industry. After 55 years of service in the helicopter industry, Héli-Union has lived up to its reputation due to its long-standing experience in the industry, unbridled dedication to customer satisfaction, and a highly reliable team. Today, the company owns more than 35 helicopters with a current global presence in 10 countries.