1961
Héli-Union SARL was created by Jean-Claude Roussel, the President of Roussel laboratories who was mesmerized by the helicopter transport industry.
1962
Héli-Union made a close alliance with Hélicop-Air, and launched its first Oil&Gas mission in the Algerian desert to assure quick transits and sanitary evacuations with its Alouette II.
1963
First offshore mission with a Dutch company, Schreiner Airways for Oil Seismic Survey in the Wadden Sea.
1967
Héli-Union increased its range of services from Offshore/Onshore personnel transport for Oil&Gas producers, to television coverage of the 1968 Olympic Games in Grenoble.
During this decade, Héli-Union started to develop internationally by entering the Algerian, Senegalese, Dutch, Mexican and Canadian market for the first time.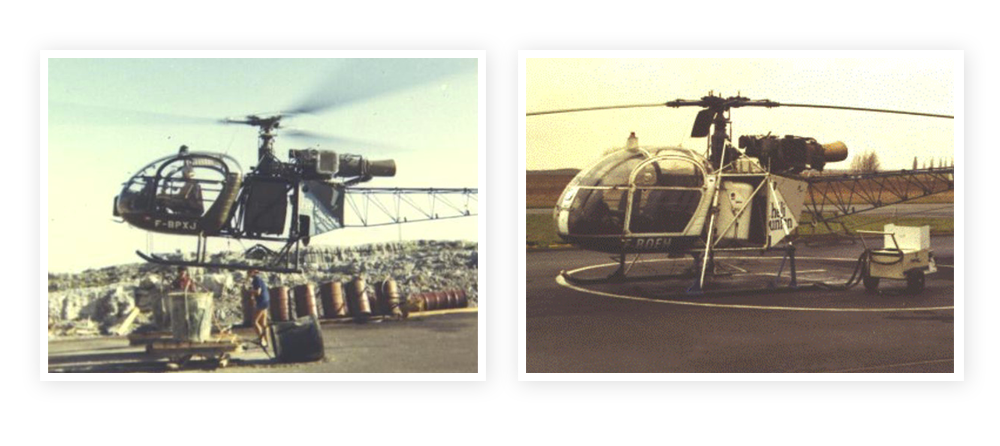 1972
Héli-Union became the major shareholder of Elitos, an italian aviation company.
1974
Héli-Union acquired its first twin-engine Puma SA 330 to help improve its Offshore/Onshore helicopter transport service
Héli-Union started to purchase shares of Air Gabon and became a major shareholder of Air Gabon until this day.
Héli-Union Helicopter school was established in Paris and Tarbes lourdes airport. Approved by the French Civil Aviation, It was a completely self-contained and fully equipped school with the latest instructional material.
Héli-Union entered the South American market for the first time using its Lama helicopter, by signing a contract with Total and Hispanoil in Bolivia.
1977
Héli-Union signed its second contract in South America with an American oil company, Exxon, via a local Brazilian associate.
During this decade, the rapid development of Héli-Union had opened enormous opportunities for the company to work in new countries: Myanmar, Gabon, Cameroon, Congo, Vietnam, the Philippines, Somalia, Yemen, Iraq, Tanzania, Libya, Tunisia, Greenland, Portugal, Italy, Bolivia, Brazil, Equator, Yugoslavia, Malta, Norway and the UK.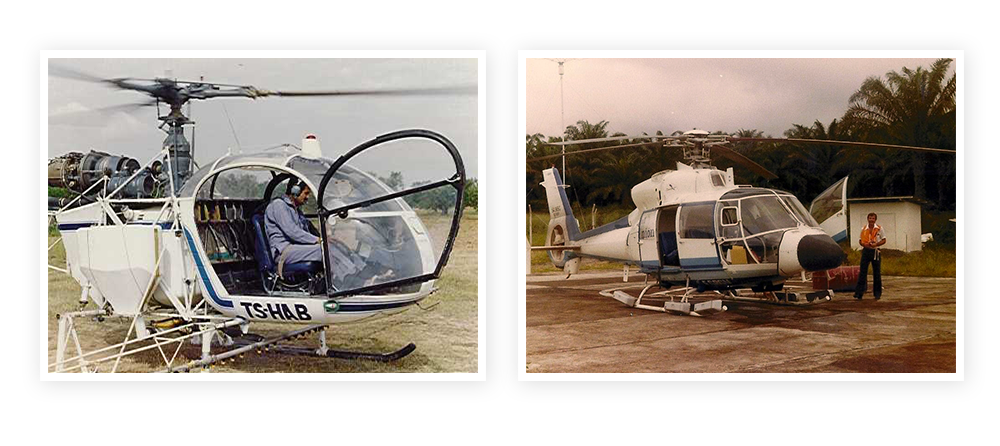 1982
Héli-Union was one of the first companies to operate Dauphin N for offshore Oil and Gas activities.
1985
In collaborations with Conair, Héli-Union rented 6 of its Lama Aircrafts to the Civil Security Association (CSA). The purpose of this collaboration was to execute a water bombing service for the CSA.
1986
All the maintenance activities of Héli-Union were relocated from Issy les Moulineaux to Toussus Le Noble.
1988
Héli-Union assisted one of today's most known motor suppliers, Turbomeca, by lending one of its fleet as a prototype to create a more functional version of s-76A, which then known as S-76A+.
1989
Héli-Union was one of the first Offshore/Onshore helicopter service providers that was experimenting with GPS (Global Positioning System) at the time.
During this decade, Héli-Union's international reach had spread to an even larger market: Argentina, India, China, Brunei, Madagascar, Syria, Mauritania, Liberia, Equatorial Guinea, Togo, Angola, Adélie Land, Marocco, Thailand, and Greece.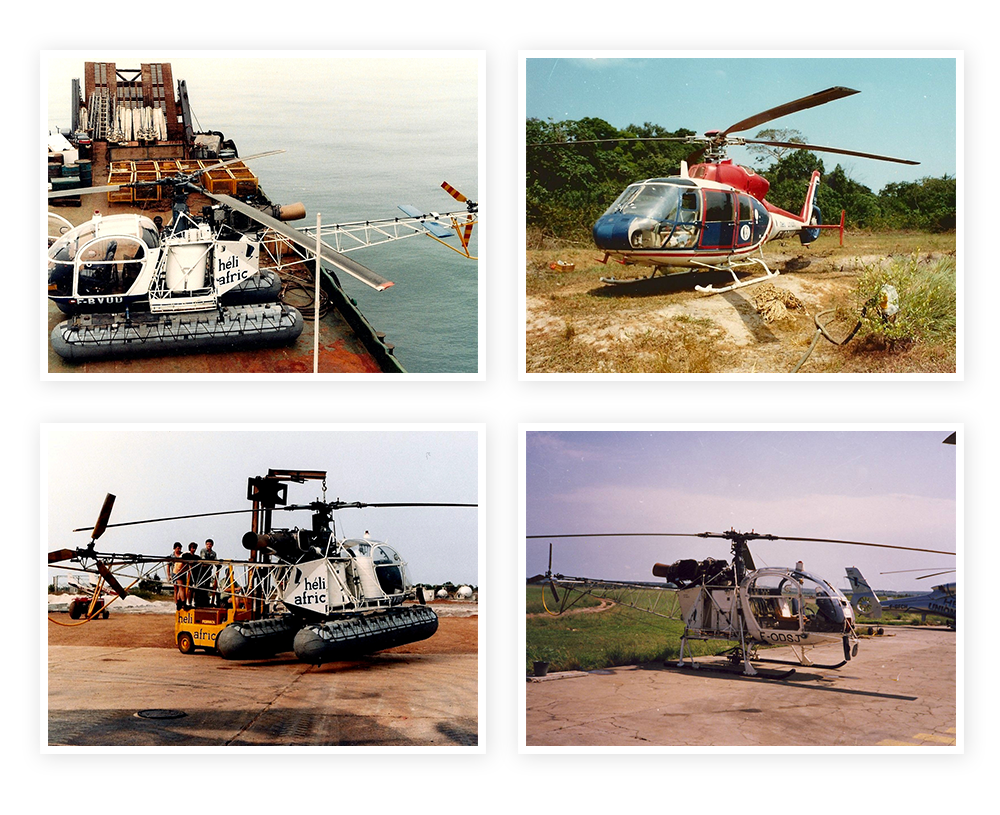 1994
Héli-Union Industry was established in Toussus le Noble.
1996
Héli-Union operational support service management moved from Issy les Moulineaux to Toussus le Noble.
1997
After 25 years of partnership, Turbomeca appointed Héli-Union operational support service as its station service, where Héli-Union performed deep revision and maintenance of Turbomeca's turbine engines for civil helicopters.
Even after 30 years of service in the industry, Héli-Union did not cease to grow and had expanded its presence to: Russia, Spain, Egypt, Ivory Coast, Ghana, Sicily, Italy, Malawi, Germany, Venezuela, Guyenne, and Peru.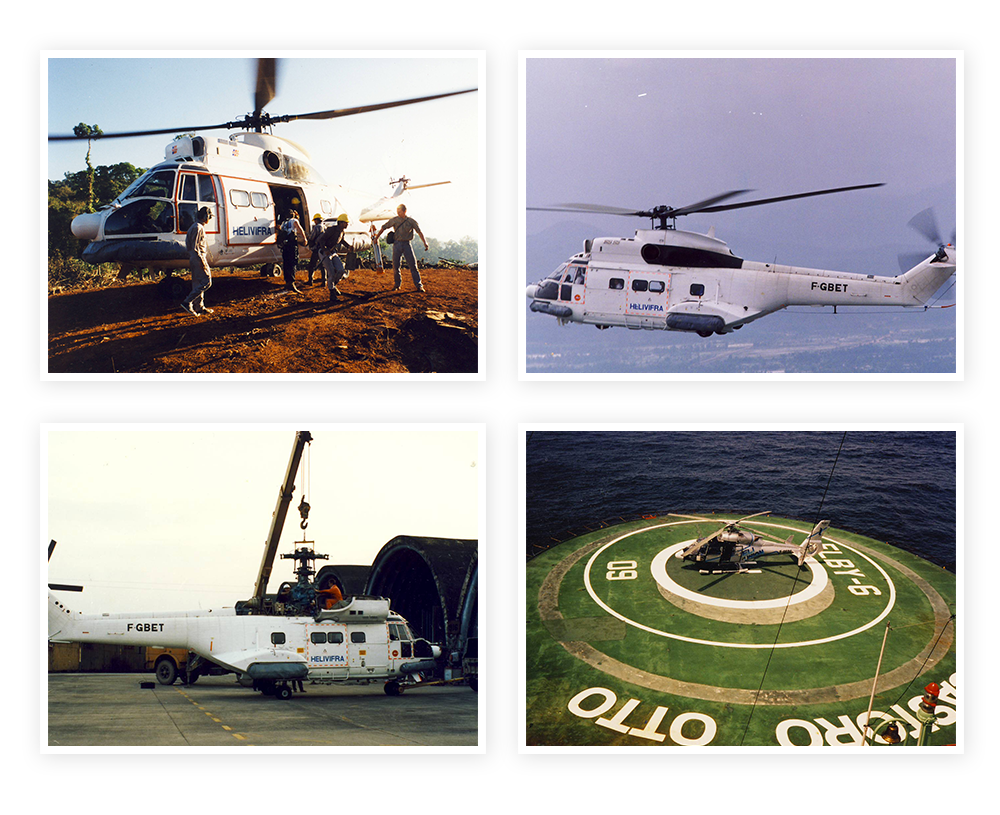 2000
Héli-Union decided to separate from its French subsidiary in order to focus on international offshore market.
2002
Héli-Union Training Center (HUTC) was created in Champniers, France.
2004
2005
Héli-Union Acquired 10 Dauphin AS365 N3.
Héli-Union Acquired 2 EC145.
Héli-Union Training Center is now one of the most advanced training center specialized in educating pilots, technicians and engineers.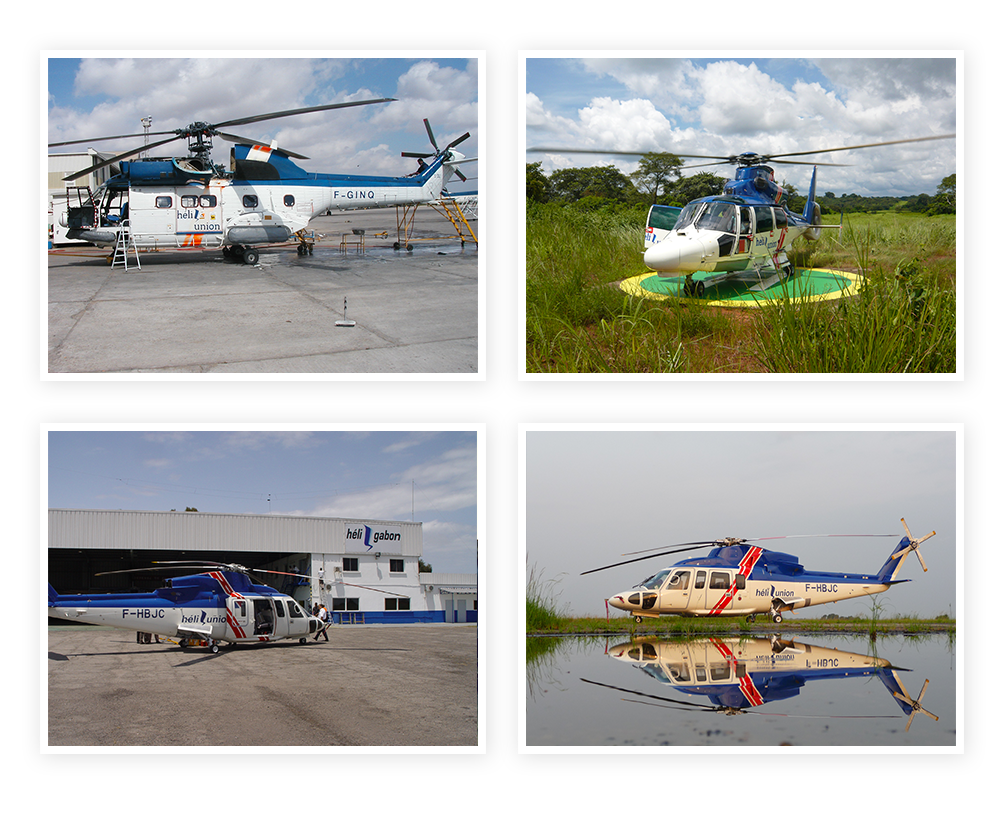 2009
2010
Héli-Union Industry expanded its reach in the African market by establishing an office in Nigeria.
2011
Héli-Union welcomed two EC 225 to its fleet.
2012
Héli-Union Training Center significantly improved its training facility by installing the only Dauphin N3 helicopter full flight simulator in Europe.
2013
Héli-Union Training Center purchased two Cabri G2 to support the Héli-Union cadet pilot training program.
Héli-Union announced the installation of a helicopter maintenance station in Pointe-Noire, Brazzaville.
2014
Héli-Union acquired the third EC225.

2015
Héli-Union extended its fleet by purchasing six new generation intermediate twin-engine helicopters: AW139.
2016
Héli-Union utilised its newly acquired AgustaWestland AW139 helicopters to perform in its first offshore helicopter search-and-rescue (SAR) program in France.
Héli-Union relocated its headquarter from Paris to Toussus Le Noble.