Introduction
Héli-Union Industry was initially created to provide technical support services for Héli-Union Oil & Gas activity. Formerly established in Issy-les-Moulineaux, the maintenance activity was then relocated in 1986 to a more spacious hangar in Toussus-le-Noble due to a significant increase in demand. The name Héli-Union Industry was then officialised in 1994. Since then, Héli-Union has gradually developped and expanded, that today, its maintenance hangar reaches the surface area of 5000m² with more than 100 employees. Ever since its creation, Héli-Union has served a significant number of civil, military and government clients, and has successfully gained its reputation as one of the best heavy helicopter maintenance centers in Europe.
Héli-Union proposes maintenance, personalisation, repair and modification of helicopters along with specialised helicopter technical and logistical support for clients from all backgrounds nationally and internationally. With a highly capable engineering staff and an extensive experience in the industry, Héli-Union is able to offer high quality maintenance service such as :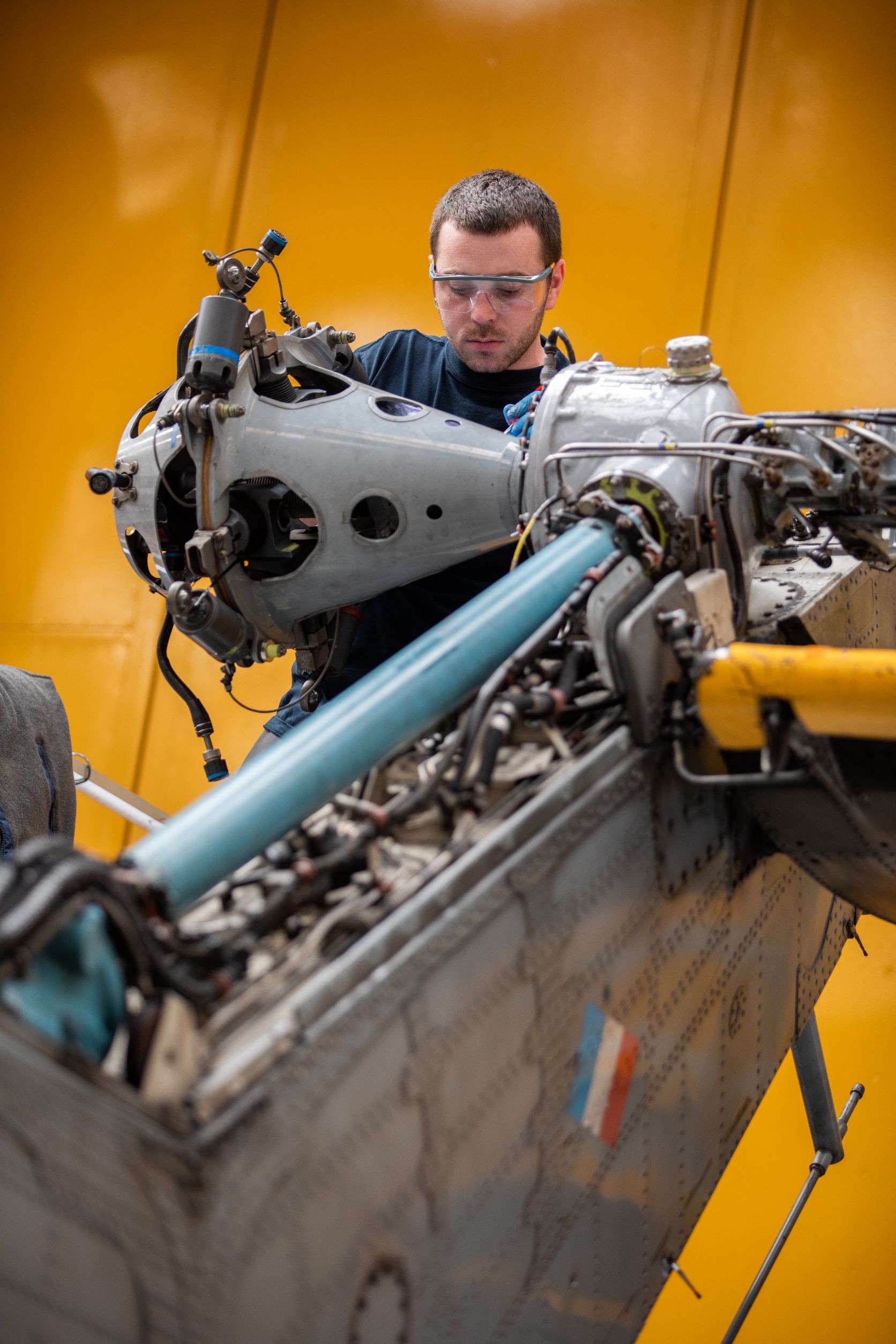 Maintenance inspections (G checks) for heavy, medium and light helicopters
Equipment installations
Design modifications
Test bench
Avionics helicopter license renewal
Aircraft mobilisation
Aircraft painting
Helicopter parts sales
Support
Heli-Union's turnkey solutions covers: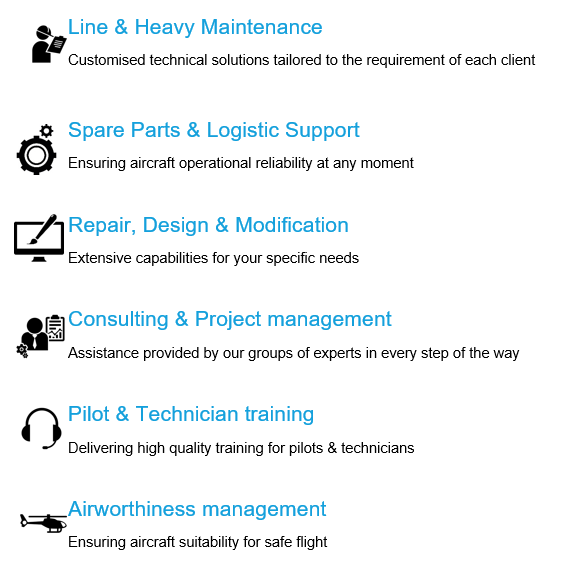 As part of its commitment, Heli-Union incorporates in its offers a 24/7 customer support desk to manage all enquiries, accessible anytime and anywhere.
Base Maintenance
Maintenance aprovals
EASA PART 145 Approved Maintenance Organisation
FRA 145 French Military Approved Maintenance Organisation
(Dauphin N, Dauphin Pedro, Panther, Super Puma, Cougar, Caracal and H225)
CMR/AMO-0018 Cameroon Civil Aviation Authority Maintenance Agreement Specifications
Since 1994 :
Line Maintenance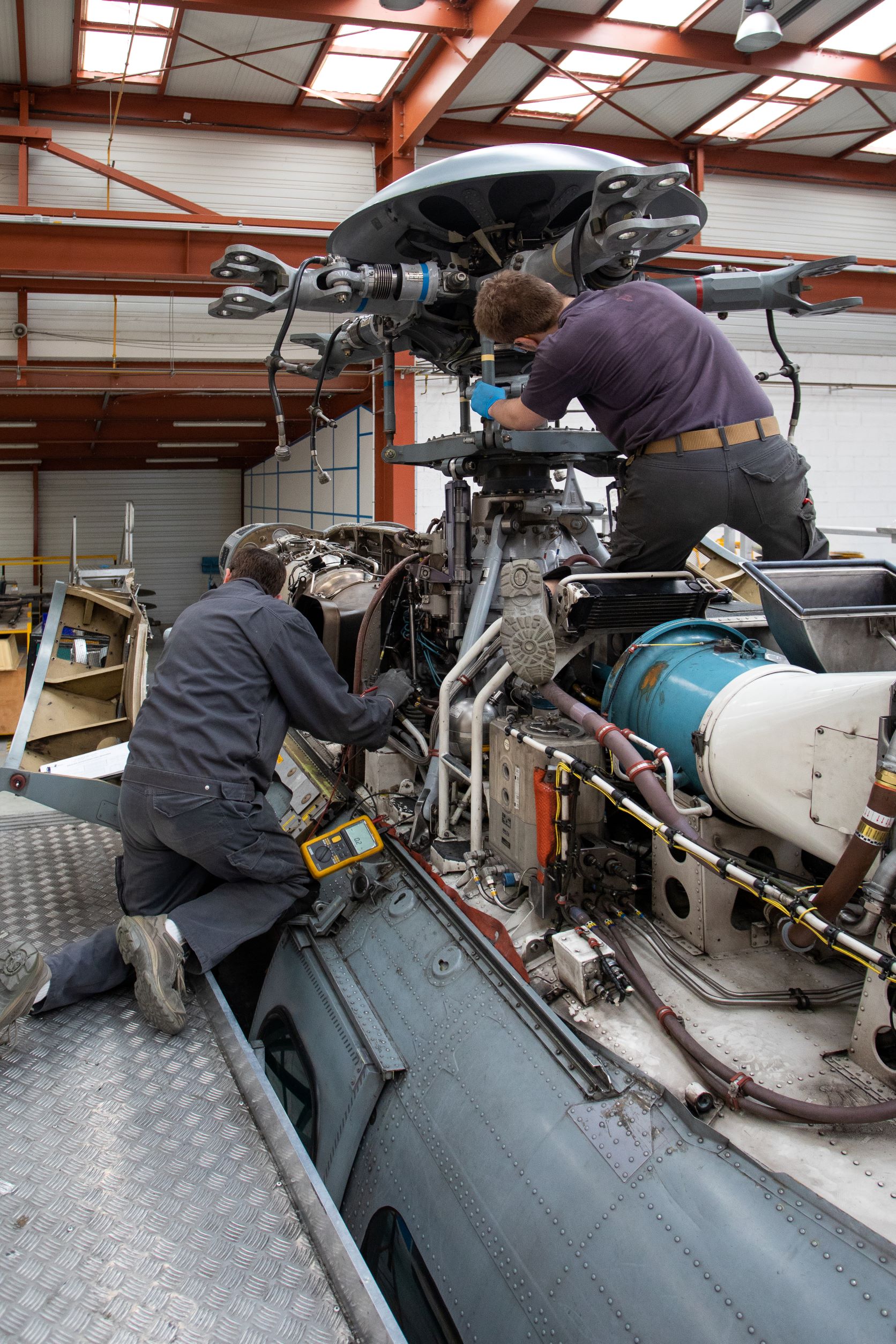 • Line maintenance on customer operating site
• Maintenance troubleshooting support. Maintenance Controle Center team 24.7 on call.
• Mobile repair team deployable world wide for assistance (Airframe and Engine)
• Maintenance project management (New hangar, New base, etc..)
• Technical support with qualified engineers for work orders
• OEM interface and technical support contract
• Special maintenance jobs such as on site aircraft painting, heavy repair and
modification.
• HUMS expertise and analysis.
Airworthiness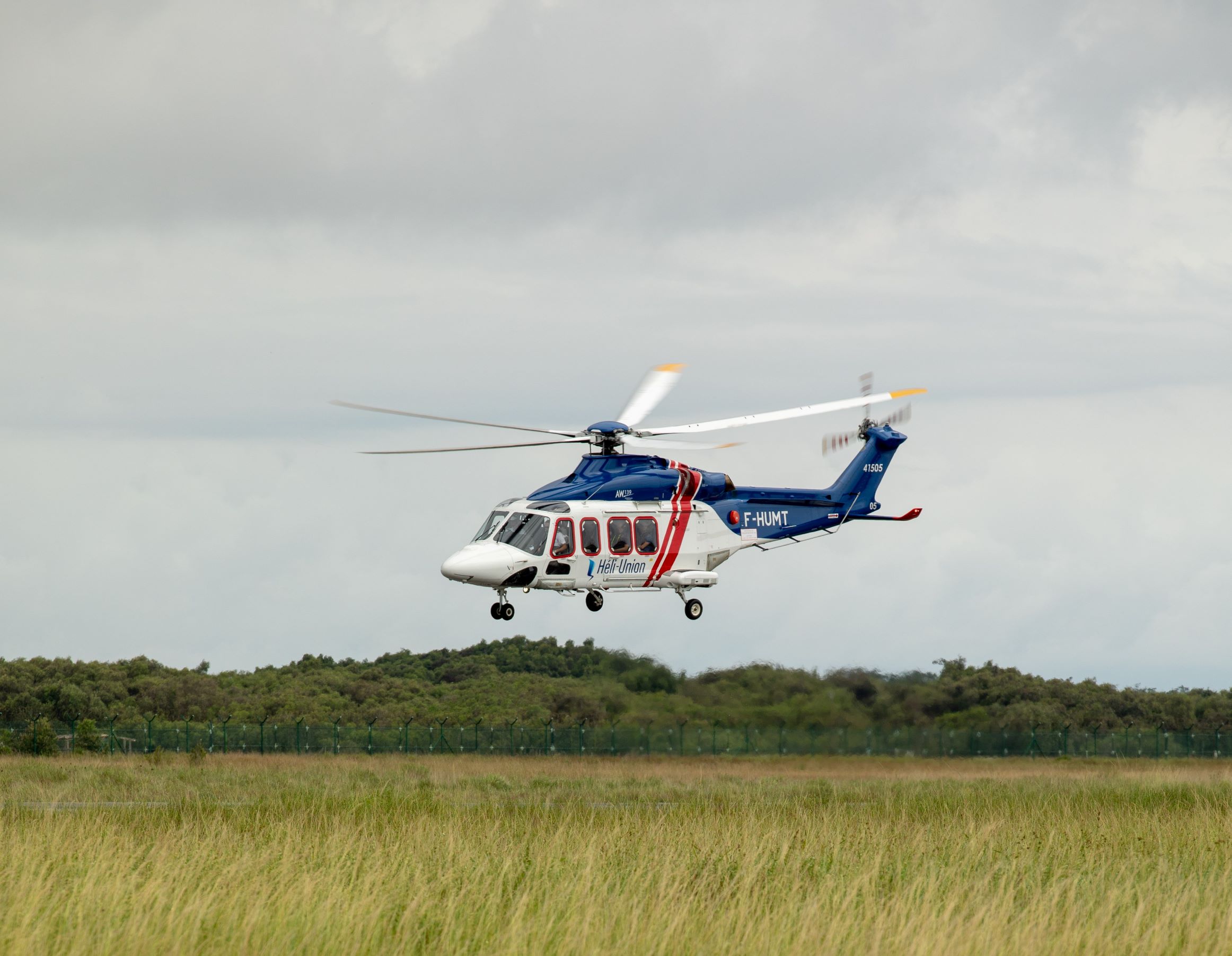 Continuing airworthiness management expertise for AIRBUS, LEONARDO and SIKORSKY helicopters
Partial or Full integrated airworthiness assistance including :
• Definition of the maintenance policy
• Maintenance program / Maintenance schedule building
• Aircraft status
• Line / Base maintenance Work order management
• Configuration management
• SB / ASB / AD analysis
• OEM tech pubs subscription and management
• Reliability program and reporting.
Spares and Logistics
Heli-Union logistics supports include sourcing and storing of more than 130.000 references
of helicopter parts that can be dispatched worldwide, inventory management, 24/7 AOG
support and aircraft mobilisation.
Heli-Union is also the authorised dealer of:

Modifications
MODIFICATION AND PRODUCTION APPROVALS
• EASA PART 21 J Alternative Procedures to Design Organisation Approval (APDOA). Design and certify a wide array of modifications certifiable in EASA Airworthiness jurisdiction.
• EASA Part 21 G Production Organisation Approval (POA)
• FRA 21 J French Military Approved Organisation
PART 21 J AND G APPROVALS
Through our Part 21 J and G approvals, Heli Union regularly performs radio avionics modifications on our own helicopters. Thus, we also have an experienced team, which includes the flight test pilot (EPNER qualified).